Bi-Annual from 2017 onwards: June & Dec
A N 2018 Vol. IX

A N 2017 Vol. VIII

AN 2016 Vol. VII

AN 2015 Vol.VI

AN 2014 Vol. V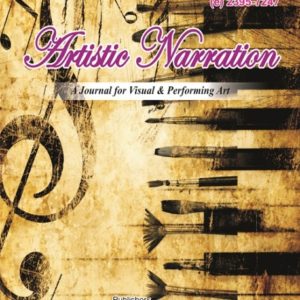 Artistic Narration
A Journal for Visual & Performing Art
A PEER REVIEWED REFEREED INTERNATIONAL JOURNAL
---
ISSN (P) : 0976-7444 (e) : 2395-7247
Since 2010 (Print) 2014 (Online)
---
Online ISSN Certificate Received on 25th May 2015
IMPACT FACTOR: 3.9651 (ICRJIFR)
---
Editor: Alka Chadha,
Dept. of Visual Art, Drawing & Painting,
RG (PG) College, Meerut,
Email: artnareditor@gmail.com
---
AIM & SCOPE
Publication Ehtics
---
Editorial Board
---
Subject: Arts, Fine Arts, Visual Art, Performing Arts, Painting, Photography, Dance, Music, Craft.
---
Annual Subscription for Library: Rs. 2400/-
We do not have any subscription charges for publishing an article.
Acknowledgments